About MMV
The MMV campaign was launched to turn out a historic number of Muslim American voters for the 2020 presidential election through a network of state chapters and partners. The campaign included extensive training on data and organizing that was led by Emgage, coalition building, and partnership. The MMV campaign supported organizing operations in 12 states: Ohio, Pennsylvania, Wisconsin, Michigan, Illinois, Virginia, Florida, North Carolina, Georgia, Texas, Utah, and New Jersey.
The driving hypothesis behind the campaign was that investing in states with significant Muslim American populations and those considered battleground states would elevate the issues that Muslim Americans care about. Moreover, investing in better voter data and training to increase voter propensity would cement a culture of voter participation and Muslim-led organizing.
Our Organization
Emgage is a family of organizations dedicated to building political power for Muslim Americans. Other bodies of the organization include:
Emgage Foundation: Emgage Foundation educates and mobilizes Muslim American voters in support of policies that enable our communities to thrive and democracy to flourish. Learn more at emgageusa.org
Emgage Action: Emgage Action supports and advocates for just policies that strengthen our pluralistic democracy and protect human rights at home and abroad. Learn more at emgageaction.org.
Emgage PAC supports local, state, and federal candidates who share our vision of an inclusive and pluralistic America.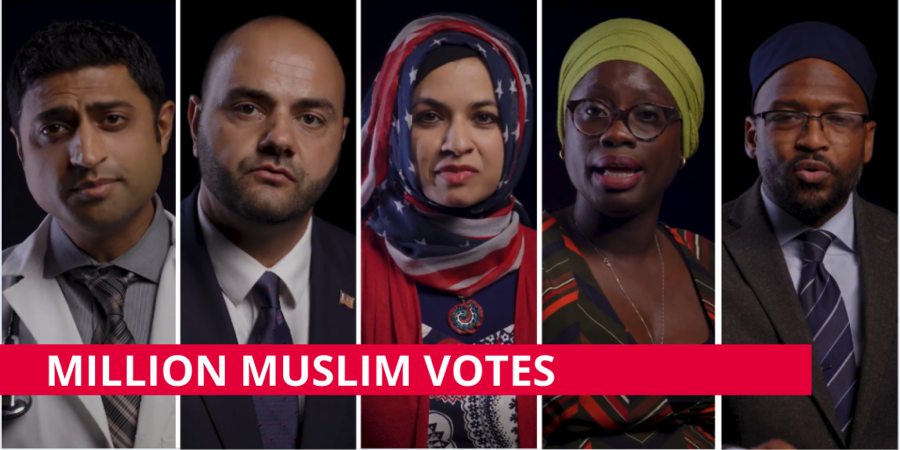 FROM OUR ORGANIZERS:
Dear Friends,
2020 was an incredibly pivotal year. The general elections were just one example of a definitive moment for our community. Through it all, we persevered, we organized, we showed up like never before and over one million Muslim voters made their voices heard. We were honored to organize this goal in service and could not have done this without our partners and without you.
The drive for organizing is deeply personal for us. Organizing is our legacy from our Prophet(s) who lovingly uplifted a movement that centered on human experience and the most vulnerable in the community. We organize for the strength and the benefit of our community. We organize so that, beyond elections, we can strategically build for the policy change we wish to see for years to come.
The truth is, our work on the MMV campaign had been years in the making from the day we walked into Emgage in the spring of 2017. Since then, we have put in countless weekends, tiring travels, and long hours developing our tools, practicing our strategy, building our institution, sharing our resources, learning from our mistakes, and enjoying a few wins along the way! The turnout we saw in 2020 was a long culmination of all of those efforts.
Throughout the MMV campaign, we heard so many stories of voters in our community.
Voters like 18-year-old Amina, who cast her official ballot for the first time, driven by the desire to fight for climate change.
Voters like 68-year-old Omar, who left the home he had known in pursuit of the American dream, saving dollar after dollar, year after year, to gain citizenship and the right to vote.
Voters like 42-year-old Sarah, who marks her election days the year before and is often seen working at the election polls after rallying her neighbors in the preceding weeks.
Each voter's story was unique; they were, in truth, one in a million. Ultimately, the MMV campaign was built for the community, by the community. The MMV campaign was our celebration and a reflection of our determination to build elections as a vehicle of change for our community's political will. We learned so much this year and are honored to have been a small part of the journey. The MMV campaign may be over, but we will continue to engage with purpose, organize with heart, and win every day.
In service and solidarity,
Mohamed Gula and Aysha Ahmed.